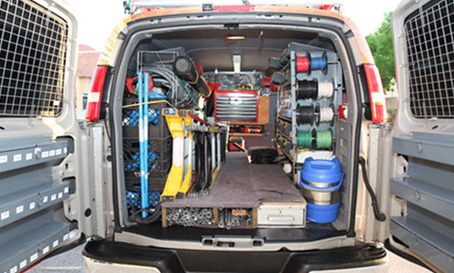 8:30am - 7:30pm Monday to Friday
9am - 5pm Saturday
10am - 4pm Sunday and Bank Holidays
At Grove & Dean we understand how vital some journeys are to guarantee the completion of jobs. That is why Goods In Transit insurance can benefit you and your business.
Goods In Transit insurance is an essential policy that can help towards the safe keeping or replacement of vital materials, tools or stock during transit between jobs. Transporting tools on a regular basis raises the risk of accidental damage or theft – sometimes the unfortunate consequences of transporting valuable materials.
Arranging a Goods In Transit insurance policy provides peace of mind and eradicates hassle, time and unwelcome reimbursements should your stock or tools be stolen or broken. Without this cover, your tools and stock really are at risk with no guarantee of recovery or replacement.
Grove & Dean can provide peace of mind with a Goods In Transit policy and you can rest assured that your belongings are protected.
Every policy can be tailor made to suit your individual needs, creating a bespoke insurance policy for you.
No matter what goods insurance you require, talking to one of our knowledgeable staff will put you on the right track towards gaining the best Goods In Transit insurance cover.
Our value-for-money Goods In Transit insurance policies include:
Goods of up to £1000 (start at £53)
Goods of up to £5000 (start at £106)
Benefits for you and your business:
Knowledgeable and trustworthy insurance experts – we appreciate the vital need for the right policy
Competitive quotes
Immediate cover available
Tailor-made polices to suit you
If you have any questions, please contact one of our members of staff who will be happy to provide you with a competitive quote for your Goods In Transit insurance