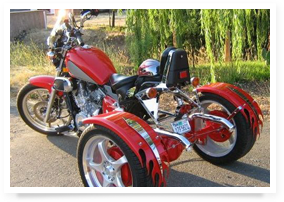 8:30am - 7:30pm Monday to Friday
9am - 5pm Saturday
10am - 4pm Sunday and Bank Holidays
At Grove & Dean, we like to ensure that our policies are bespoke and personalised to each individual and as a Trike enthusiast, your insurance cover should be no different.
Here at Grove & Dean, we search the entire insurance market to help find you a policy that provides accurate yet personal cover, that's competitive but provides you with peace of mind that you're safely and securely insured.
Regardless of your type of trike, whether it has been bought as new or has been built from scratch, has a bike engine or a car engine, we can help in securing the correct level of insurance cover for you.
To take out a bespoke trike insurance policy with us, give us a call today on 01708 564 149 to speak to one of our specialist advisers or click our get a quote button below. Taking out Trike Insurance has never been easier with Grove & Dean.